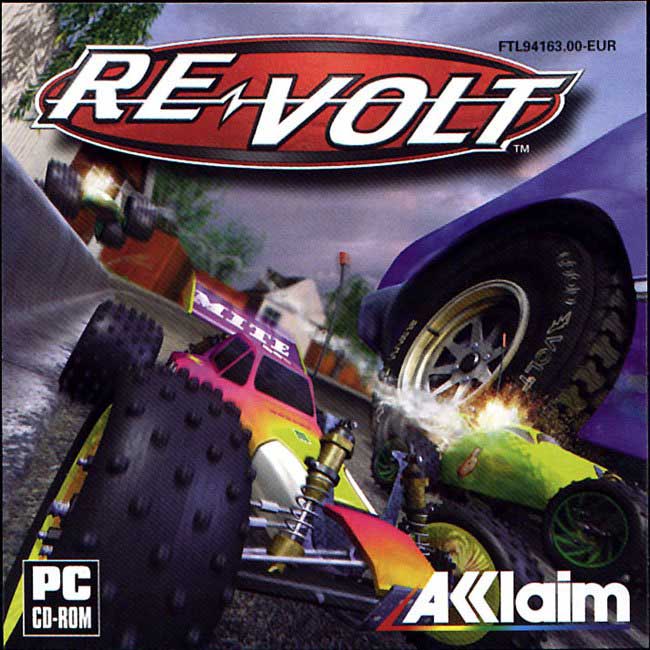 Game ReVolt adalah game balapan. Di game ini kita akan balapan dengan sebuah mobil remote control seperti mainan anak kecil, di game ini sobat bisa memilih banyak mobil dan arena/track yang cukup banyak, dan menantang.
Game ini menurut saya cukup bagus karena grafisnya yang lumayan keren. Walaupun saya engga bisa main gamenya, nabrak terus. Tapi saya mau bagikan game yang lumayan seru ini.
Ok, Langsung aja deh di download gamenya di bawah ini :
System Requirements:
OS : Windows

RAM : 256MB

HDD Free : 1GB

VRAM : 128MB
Screnshoot
( Download )
Cara instal :
Extrak hasil download Volt-Re.rar.
Jalankan installer.exe yang ada di folder instalan yang sudah di extrak dari file Volt-Re.rar.
Setelah instal selesai jangan langsung di mainkan. Masuk ke folder updates dan masuk lagi ke folder update to 0916 dan jalankan rvpatch110.exe dan klik unzip terus close.
Setelah itu keluar dari folder update to 0916 dan masuk ke folder update to 1207 dan salin semua file yang ada di dalam folder update to 1207 ke folder dimana sobat instal game ini, contoh: C:\Program Files\BoontyGames

Setelah itu mainkan.
Keterangan :
Pada saat menginstal game ini, instalanya tidak berbahasa inggris. Melainkan berbahasa prancis. Di game ini sudah lengkap dengan patch, update mobil, update track, dan registri untuk membuka/unlock track dan mobil-mobil yang terkunci/lock. Untuk meng Unlock Track dan Mobil. Kamu buka folder utilities dan buka re-volt patch all cars.zip dan jalankan revoltt.reg.